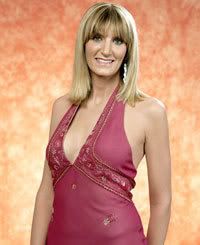 My name is Melissa Jones; you may recognize me from the first season of the hit ABC reality series Extreme Makeover. Along with being one of the faces for Extreme Makeover I've also appeared on such shows as The Oprah Winfrey Show and Entertainment Tonight. National magazines and newspapers I've been featured in include, People, Elle and The New York Times. International magazines include, Up Close, Marie Claire and Cosmopolitan.
During my many appearances promoting Extreme Makeover and ABC, I worked with several makeup artists including one of the most recognized names in celebrity makeup, Sharon Gault. I was taught many makeup tricks and techniques and had only the most recognized name brand makeup used on my face. While I loved the special treatment and the lessons on how to apply the cosmetics they used, the vast array of products I needed to create the same looks, was not feasible at the time.
To make due, I attempted to match colors they used using every-day drug store cosmetics to give myself a similar look they had given me. Many times I failed miserably as the cosmetics I purchased didn't always blend the same way.
Then, I was introduced to the line of mineral makeup offered by Beauty from the Earth.
I started with a few samples, testing the colors and blending the minerals to create the perfect colors for my daughters or myself. I was delighted when I had finally found the coverage and blending mixes I had used in the past. The big difference was I didn't have to spend a small fortune to buy all the colors and products I wanted to achieve my favorite looks.
Because the minerals are loose, they are incredibly easy to blend. The greatest part is I can create a little or a lot depending on how often I feel like I'll use that color. For those of you wishing to blend a lot, I suggest purchasing one of the
empty mineral jars
, they're a trouble-free way to store your new creation!
If you're like me and tend to stick to the same blends or colors, but want to try something new, take a look at the number of videos that have been created for Beauty from the Earth. You will find more than enough information and guidance to creating bold and beautiful looks.